Marking the 40 years of friendship between the cities of Zagreb and Lisbon, the National Coach Museum opens two exhibitions presenting the works of photographers Marija Braut and Slavka Pavić, as well as the artistic expression of the world famous Croatian painter Vatroslav Kulis.
Sharing the title Zagreb Art in Lisbon (Umjetnost Zagreba u Lisabonu), the two exhibitions can be visited from November 4th, in the Gallery of the 2nd floor (painting nucleus) and in the Garden Room of Belém (nucleus of photography) of the new National Coach Museu.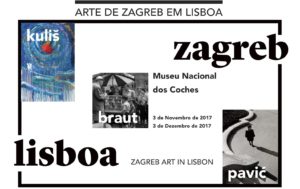 Organisation: City of Zagreb, Embassy of the Republic of Croatia in the Portuguese Republic and Klovićevi dvori Gallery.
The exhibition is supported by: the Portuguese Ministry of Culture, the General Directorate of Cultural Heritage and the National Coach Museum.