Ceremonial vehicle ordered by Joseph I Emperor of Austria, on the occasion of the marriage of his sister, Queen Maria Ana, to the king of Portugal, D. João V. It arrived in Lisbon by sea on a fleet of eleven ships.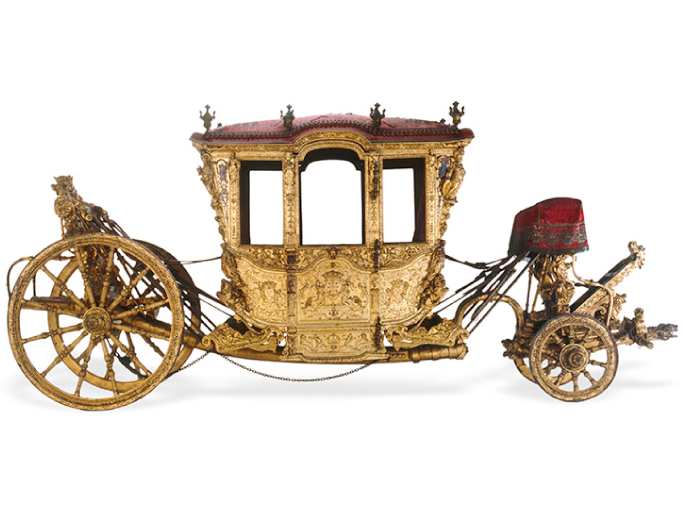 1 – The body of the coach is closed and decorated in French Louis XIV style.
2 – The exterior is completely covered in magnificent gilt woodwork with allusions to the virtues of the Queen and Royal Power, which is symbolized by the figure of the crowned lion and repeated throughout the decor.
3 -On the lower side panels, there are four medallions containing a monogram with the letter M, and on the doors and sides, the Portuguese Coat of Arms in an oval shield topped with the crown of the Archduchess.
4 – On the lower angled panels of the body, images of female figures symbolizing Dignity, Affection, Sincerity and Strength, the upper angles include the four continents.
5 – The rear panel is adorned with a painting representing Minerva crowned by a spirit and surrounded by female figures symbolizing Truth, Fortitude and Loyalty.
6 – The set of wheels has the same decoration as the body and the suspension springs are covered by a gilt bronze plaque in which the figure of Abundance is represented.
7 – The harness straps are lined in velvet with engraved bronze buckles, and the wheel spokes are reminiscent of sceptres.